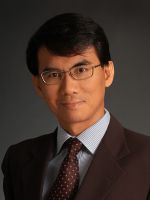 About the Presenter:


Dr Quah Boon Long graduated from the National University of Singapore in 1987. He trained in ophthalmology at Singapore General Hospital, Tan Tock Seng Hospital and Singapore National Eye Centre. He was an International fellow in paediatric ophthalmology and strabismus at The Hospital For Sick Children in Toronto from 1998-1999. He is a Fellow of the Academy of Medicine( Singapore), Fellow of Royal College of Surgeons of Edinburgh, and a Council Member of Asia-Pacific Strabismus and Pediatric Ophthalmology Society. Dr Quah is currently the head of paediatric ophthalmology and strabismus service at Singapore National Eye Centre and Kandang Kerbau Women's and Children's Hospital. His clinical areas of interest include paediatric ophthalmology, strabismus, cataracts in children and adults, and retinoblastoma.

Ms Yang Younian is a senior clinical auditor at Singapore National Eye Centre. She has a Master of Public Health from Shanghai Medical University in 1992. She is responsible for the development and management of clinical audit projects at Singapore National Eye Centre.