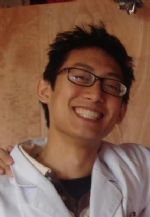 About the Presenter:


Joshua H. Hou graduated summa cum laude from Duke University (2005) with a B.S. in chemistry and minors in mathematics and religion. He then received his M.D. from Washington University in St. Louis School of Medicine (2009). Following an internship year at Inova Fairfax Hospital under the affiliated Georgetown University Hospital, he entered into ophthalmology residency at the University of Illinois Eye & Ear Infirmary where he is currently a second year resident.

His interest in ophthalmology began early in life during the fourth grade when he suffered a traumatic retinal detachment of his right eye that required emergent surgical repair. Due to the trying experience, he developed a strong passion for both patient care and research in the field of ophthalmology. Following significant exposure to basic science research during his years at Duke University and Washington University in St. Louis, Dr. Hou further developed a keen interest in translational bench-to-bedside research.

To date, Dr. Hou has authored one scientific book chapter and four published peer-reviewed journal articles. He has also presented original research at both the 2009 and 2011 ARVO (the Association for Research in Vision and Ophthalmology) symposiums. He was recently awarded a Resident Research Seed Grant (2011) by the Illinois Society for Prevention of Blindness and is currently serving as the Resident Education Officer of the Midwest Uveitis Society. His current research interests include, the characterization of adrenergic receptor subtypes in Mullerís muscle, and the role of anterior segment ocular coherence tomography in the management of Boston type I Keratoprosthesis.

In the future, Dr. Hou plans to pursue dual fellowships in both Cornea and Uveitis and establish a dedicated academic career in ophthalmology.