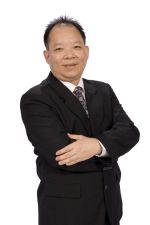 About the Presenter:


Dr Aloysius Joseph Low
One of the co-founders of VISTA in 1999, Doctor Aloysius is one of the most celebrated refractive and cataract surgeons in Malaysia. He sub-specialised in LASIK & Cataract Surgery in Melbourne, Australia and is Malaysia's representative in the International Society of Refractive Surgery since 2004. Doctor Aloysius is a certified Multifocal ReSTORâ Trainer for ALCON Internationally since 2005 and a certified LASIK Trainer for VISX Globally since 2007. He has also been awarded the Multifocal Champion Surgeon Trophy in Malaysia from 2005 to 2009 and has presented numerous international papers on ophthalmology with the most recent at the TSCRS 2011 (Taiwan Society of Cataract & Refractive surgery). As one of the 1st doctors in ASIA to perform the LenSx No-Blade Cataract surgery, he was subsequently invited to Hong Kong and to Chicago, United States, at the 2012 ASCRS (American Society of Cataract & Refractive Surgery) International conference to present regarding the LenSx. Over the years, Dr. Aloysius has also been invited for various live interviews with Channel News Asia & NTV7 among them.