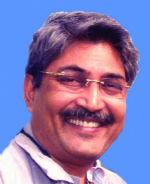 About the Presenter:


Dr. Samar K Basak is one of the founder members of Disha Eye Hospitals and Research Centre. Currently, he looks after Cataract, Cornea and External eye diseases, and Eye Bank services.
Currently, he holds the post of Vice President, Eye Bank Association of India and the Editor, Proceeding, of AIOS .
His book "Essentials of Ophthalmology", "Atlas on Clinical Ophthalmology" and "Atlas on Corneal Diseases" are very popular among medical students nationally and internationally. Several of his clinical research works on cornea has been published in peer-reviewed indexed journals.
For his creative pursuits, he has been amply awarded by AIOS. Bagging CS Reshmi Gold Medal (for the best video) in 2000, Col. Rangachari Gold Medal (for the best paper) in 2001 and ET Selvam Gold Medal (for the best poster) in 2002 in succession in AIOS Annual conferences. He has also awarded for Sante Vision Gold Medal (for best work in Cataract) in AIOC-2005, P S Hardia Gold Medal for Best paper in Refractive Session in AIOC-2008 and AIOS-Cornea Award for the Best Paper in Cornea AIOC-2010.
He was also awarded with Dr. Wagh Oration from Pune Ophthalmological Society-2007; Gold Medal oration from BOA-2008; Dr. Murali Sengupta Silver Jubilee Oration From ECRC, Kolkata, 2009; Gold Medal from IIRS, Chennai, 2009; Rustam Ranji Gold Medal from Andhra Pradesh Ophthalmic Society-2009; Dr. A K Pandeya Gold Medal from Bihar Ophthalmological Society-2009; Dr. RC Meher Oration in EIZOC 2010 and prestigious Prof L P Agarwal Oration by AIIMS, New Delhi in 2011.
Internationally, He has received the Best Video Award in ESCRS-2007, Stockholm and ESCRS-2008 in Berlin. He has also received the "Best of Show" Video Awards in AAO-Atlanta in 2008 and AAO-San Francisco in 2009 and also AAO-Orlando-2011. And Best Poster awards in AAO-2008 and 2009
He has received "Achievement Award" and "International Ophthalmic Education Award" by AAO in 2008. He has also received the "Achievement Award" by APAO in 2011.
He is appointed as an Examiner in FRCS) Examination (Glasgow for 5 years, since 2008.
He has performed many live surgical sessions in different parts of the country, and also in Bangladesh, Nepal and in Croatia on Manual SICS, Phaco, DSEK and Boston K PRO.
Dr. Basak is currently the reviewer of prestigious journals like, Ophthalmology, American Journal of Ophthalmology, Indian J Ophthalmology, International J of Clinical Medicine, British J of Ophthalmology and New Zealand J of Ophthalmology.
When not busy with his ever-increasing paper work, Dr. Basak loves to pursue his unique hobby on special stamps collection "Ophthaphilately" which has been recognized by International Philatelic Society. He has also written a book on "Ophthaphilately".