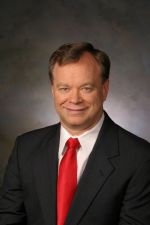 About the Presenter:


Eyesight Associates of Middle Georgia
Position Held: Owner/CEO/Chief Surgeon
The practice was established in 1983 and has 4 locations, 7 providers and an adjoining surgery center.

Dr. Johnny Gayton has been practicing ophthalmology in middle GA for over 25 years. He is a graduate of the University of GA and the Medical College of GA. He was the first eye surgeon to recommend routinely doing cataract surgery from the temporal approach, and he developed the piggyback procedure. He has given numerous lectures worldwide and has published extensively. He was chosen to launch the toric lens in both Hungary and China. He was also chosen to launch modern cataract surgery in Mongolia. Most recently he was awarded a Medal of Honor by the Indian ministry of health for his contributions to eye care.
Dr. Gayton is adjunct professor of ophthalmology at Mercer Medical School. He is the proud father of 5 girls and 4 boys and has 6 grandchildren. His outside interests include being the owner of a family fun center, winning several Texas Hold'em tournaments, competitive powerlifting, and professional wrestling. He is the current Georgia wrestling promoter of the year.