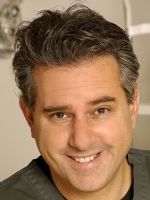 About the Presenter:


Professor Dan Reinstein is an American born British educated and internationally sub-specialized refractive surgeon. Having decided on a career in refractive surgery he met Professor John Marshall toward the end of his medical studies when writing his Cambridge (1989) dissertation on lasers in ophthalmology. Under the mantle of an MD thesis supervised and inspired by Prof. Marshall, he spent several years at Cornell as Bioengineering Fellow under Professor D. Jackson Coleman developing a method of studying the micro anatomical structure of the cornea in vivo with the ultimate goal of applying this to study and improve excimer corneal and phakic intraocular refractive surgery. 3D VHF digital ultrasound scanning is still the most precise method of layered corneal and anterior segment biometric mapping providing ultrasound epithelial mapping (UEM), stromal component of the flap and residual stromal bed with 1 µm precision. The Artemis (a commercial prototype of this technology) became a vehicle to many discoveries and developments in refractive surgery since 1992: Diagnosing the cause of 'central islands'; the epithelium is not a layer of even thickness; UEM changes in PRK; paradoxical power shifts produced by epithelium; 3D flap profile and precision; diagnosis in flap and optical complications after excimer surgery; proving biomechanical thickening of peripheral stroma after central ablation; modeling the imprecisions responsible for most iatrogenic ectasia; diagnosing keratoconus despite normal topography; stromal surface topography based ablations; UEM digital subtraction modeling of transepithelial PTK; proving anterior chamber diameter (WTW) is not sufficiently correlated to sulcus diameter and developing algorithms for enhancing ICL sizing safety; enhancing safety of high hyperopic LASIK through UEM; extending the range of myopic LASIK through ablative-biomechanical (dual-mechanism) ablation profiles; developing a method of treating presbyopia by excimer laser. This work has produced 71 publications in the peer-reviewed literature, 31 book chapters, and 511 presentations/lectures/posters. Professor Reinstein is also a practicing refractive surgeon specialized in laser refractive surgery having performed 19,165 procedures since 1997.

Professor Reinstein holds a position as Assistant Professor of Clinical Ophthalmology at Columbia University Medical Center in New York. Professor Reinstein was appointed full Professor of Ophthalmology at the University of Paris VI, France, and has an ongoing appointment as Professeur Associé at the Centre Hospitalier National d'Ophtalmologie des Quinze-Vingts, Paris, France's national ophthalmological referral center where he consults in a VHF ultrasound diagnostic centre he set up together with Professor Laurent Laroche. He is a Fellow of the American Academy of Ophthalmology, a Fellow of the Royal College of Surgeons of Canada and a Fellow of the Royal College of Ophthalmologists, UK.